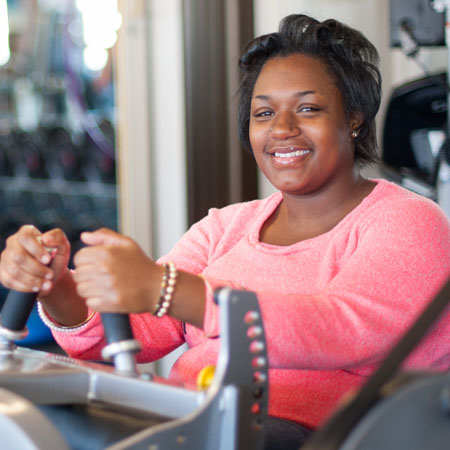 "BEFORE THE YMCA, I COULDN'T GET MY MIND STRAIGHT TO FINISH SCHOOL. THEY'RE HELPING TO MAKE THAT HAPPEN."
Too Much To Handle
Stressed. I felt that and more. At times regular activities, like getting out of bed, were overwhelming. I struggled in school. My grades slipped. My attendance slipped. Then in 2009 I had my son. It all became too much for me to handle. I dropped out of school altogether.
Then I was diagnosed as bipolar. With a diagnosis came help. And with help I could start putting the pieces of my life back together.
Living Up to My Name
At first I was shy about asking for help. My caseworker, understanding I needed an education, connected me with the Battle Creek YMCA to get me back on track with finishing school. As I worked with the tutors there, I slowly grew more confident. When I'd have a breakdown or want to give up, they encouraged me and kept me on the right track.
Now I radiate confidence and positivity. I'm achieving goals and pursuing new ones. I hope to get my GED this year. Up next: beauty school, so that I can go on to open my own hair salon. Or maybe a degree in graphic design, because I enjoy being creative. I'm also considering becoming a nurse. I have options, and I plan on making the most of them.
My name is Radiance, and now I help change the story.
Help From
With the generous help of the Battle Creek YMCA, Radiance was able to change the story.
Health
We are making sure people have access to physical and mental health care, and that babies are born healthy. We work with health care providers to keep costs low and make sure services are available for those with little or no health insurance.
Income
We're helping families become – and stay – self-sufficient by investing in programs that help them stay in their homes, through rental assistance, budgeting and financial counseling. We also help people become financially stable by supporting job training and retention programs, and through the Tax Counseling Initiative and the Emergency Food and Shelter program.